Distinguished Service Award
Institute for Black Catholic Studies (ICBS)
at Xavier University of Louisiana
2022 Honoree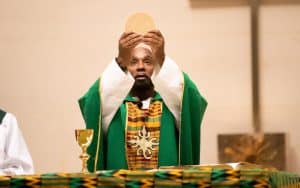 The American Catholic Historical Association is honored to bestow the 2022 Distinguished Service Award to the Institute for Black Catholic Studies (IBCS) at Xavier University of Louisiana.
For over five decades, the IBCS has provided truly extraordinary historical, theological and pastoral training in Black Catholic Studies to the Black Catholic Community, the broader Church, the scholarly community and the wider public. We celebrate the IBCS's remarkable work of advancing scholarship and ministry through their rich archival holdings, their summer program and their incredible research projects and programming. These projects have revealed to us the moral and spiritual power of uncovering the Black Catholic experience for a truer, more capacious understanding of our past and present. This has strengthened the work of the American Catholic Historical Association, and we are indebted to their intellectual and pastoral work, and the breadth of their vision.
Many of us at the ACHA were so deeply impressed and moved by our visit to the IBCS in 2022 at our New Orleans meeting and the leadership of Dr. Kathleen Dorsey Bellow and her entire team. It is an honor and a privilege to bestow this award on such an incredible institution.
Congratulations to the Institute for Black Catholic Studies at Xavier University of Louisiana!