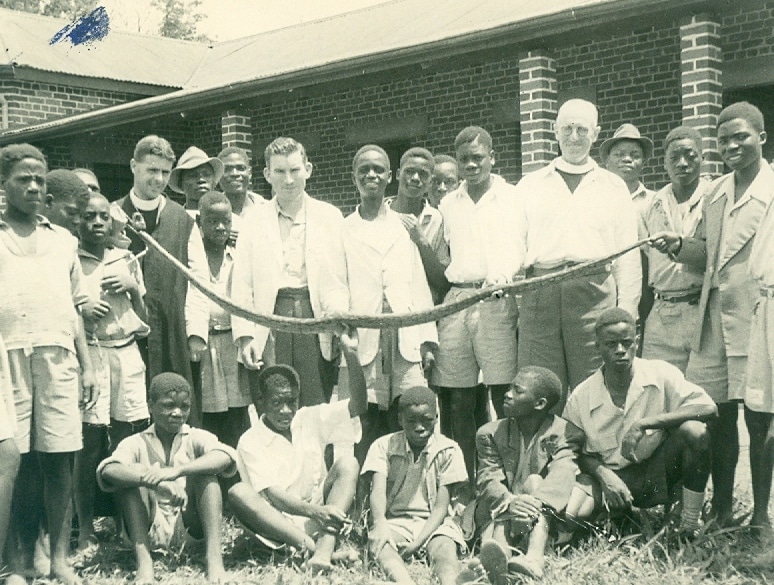 This week's #HiddenCatholicCollections features the Jesuit mission to Zambia, undertaken by the Irish Province of the Society of Jesus (Jesuits), from 1946-1969. Zambia (Northern Rhodesia) was the third overseas mission for Irish Jesuits, after Australia (1865) and Hong Kong (1926), and was initially called the Chikuni Mission.
Housed at the Irish Jesuit Archives, 36 Lower Leeson Street, Dublin, the Zambian mission material contains papers, slides, and photographs, sent back to Ireland by over a hundred Irish Jesuits who worked in Zambia. The ten archival boxes illustrate the areas of work that they laboured in: parish work, education and development. The archival catalogue can be found at jesuitarchives.ie/zambian-mission.
The Irish Jesuits' work in Zambia was complemented by other Jesuit Provinces (Canada, Croatia, Oregon, Poland and Slovenia). Initially, two Irish Jesuits, Patrick J Walsh (1911-1975) and Patrick J O'Brien (1910-1991) were sent to Northern Rhodesia in 1946.  Walsh in particular, formed a strong bond with Kenneth Kaunda (1924-2021) (who became the first president of Zambia), often visiting him in prison.
Writing from Lusaka, Northern Rhodesia to his Irish Fr Provincial, Walsh refers to the Mau Mau in Kenya and remarks "it is likely that in the next few years we shall see similar developments in central Africa. There is a great spirit of unrest and dissatisfaction among the Africans here and there is quite a bit of Communist propaganda going on – especially through the African Congress" (29 November 1952, 1p).
---
Contact
Damien Burke
Province Archivist
Irish Jesuit Archives
36 Lower Leeson Street
Dublin, Ireland
E-mail: [email protected]
---
Photos