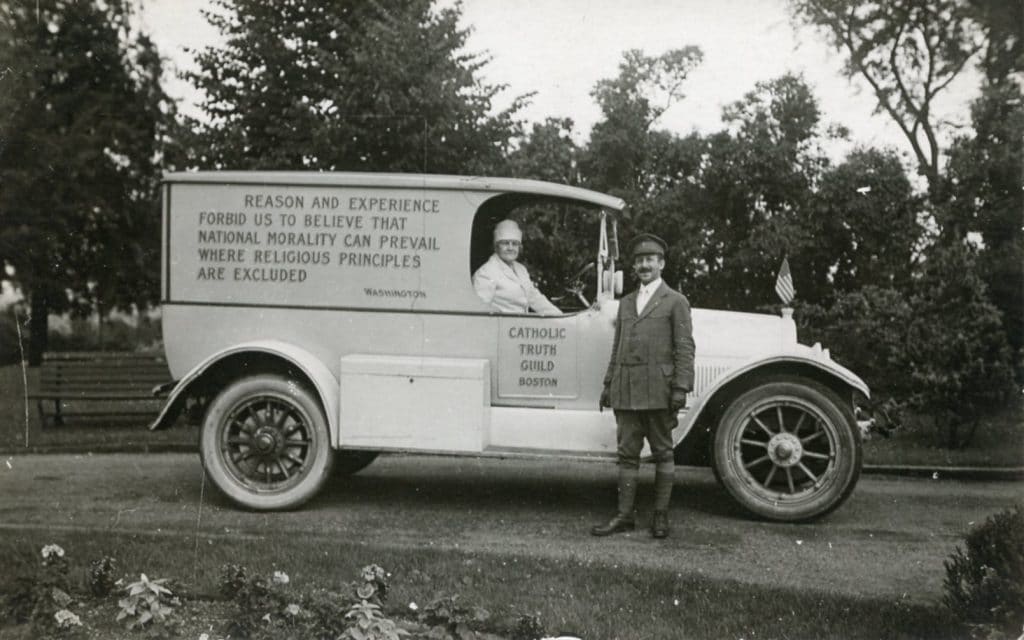 The David Goldstein and Martha Moore Avery papers relate mainly to their association with and disavowal of Socialism, their conversion to Catholicism, and their subsequent lecture tours. The bulk of the 148.75 Linear Feet (143 boxes) collection consist of Goldstein's professional papers, with a smaller amount of his personal papers and of Avery's papers. The collection includes correspondence, financial records, photographs, pamphlets and clippings, writings, and artifacts such as buttons, pins and medals, rosaries, printing plates, a Boston College pennant, and even hatpins and a pair of beaded shoes owned by Avery.
Goldstein's financial records and personal papers detail his business dealings, membership activities, and contain some family information. There are also many scrapbooks documenting Goldstein's lecture tours, his publications, and subjects in which he was interested; there is one scrapbook pertaining to Avery and her activities. Avery's printed materials and personal papers contain items collected from events or organizations with which she was involved, including the Common Cause Society and the Philomatheia Club of Boston College. Subject files consist mostly of newspaper clippings and printed materials compiled by Goldstein and Avery on topics of interest, such as family values, birth control, eugenics, divorce and free love, women's suffrage, unions and labor workers, equal pay, the relationship between Christianity and Judaism, and Christianity and Socialism. Writings include drafts, copies of and notes for speeches, newspaper columns, journal articles, and books.
The papers of both Goldstein and Avery relate almost entirely to their professional careers, and contain relatively little personal information. Early records document their activities in the Socialist Labor Party and their union ties, particularly Goldstein's membership in the Cigar Makers International Union and Avery's work on behalf of the American Federation of Labor. Among Goldstein's artifacts are a number of union and political pins. There are also significant records of the Karl Marx Class (later the Boston School of Political Economy), founded by Avery, for which Goldstein served as secretary. Their lecturing activities are well documented by correspondence, photographs, printed materials such as posters and fliers, and scrapbooks.
Contact
John J. Burns Library
140 Commonwealth Ave.
Chestnut Hill, MA 02467
---
Photos