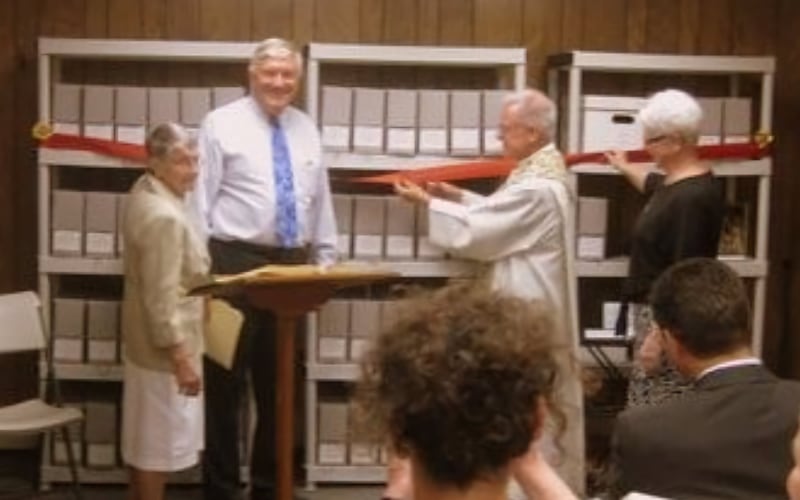 The Archives of the Church of the Sacred Heart, South Plainfield, New Jersey is a professionally curated and processed collection documenting over 110 years of parish history and service to the community. The collection consists of approximately 90 linear feet of documents, blueprints, maps, photographs, mixed media and ephemera, with inclusive dates from 1901 to 2021, with the bulk of the collection from 1950 to 2021. The collection is maintained on an ongoing basis and made available to parishioners and researchers. The Roman Catholic Church of the Sacred Heart, South Plainfield is a diverse community striving to foster spiritual growth and Catholic identity through liturgy, sacraments, service, education and its shared faith in God.
Religious education in the parish, utilizing the Confraternity of Christian Doctrine model, (CCD) began in the 1920s with the Sisters of Mercy coming from their Motherhouse in Watchung, New Jersey to teach the youth their catechism. In 1939, parish growth necessitated Sisters in residence and the Franciscan Sisters of the Atonement (Graymoor) came to Sacred Heart, serving the parish for the next 12 years. Religious education adapted to the changing needs of the parish community. This evolution progressed from the traditional weekly CCD classes, to later including an option for summer instruction, to the current Whole Community Catechesis (WCC) program used today involving students, their parents, church activities, service and worship.
To provide a Catholic environment for both religious and secular education for an increasing parish youth population, Sacred Heart Catholic School opened in 1953, staffed by the Sisters of Mercy. In 1990, the Religious Sisters of the Virgin Mary (RVM) assumed the leadership of the school until the Sisters of Mercy returned in 2004. The last Religious Sister at Sacred Heart School ended her ministry in 2011 with the school becoming a Deanery School (Holy Savior Academy).
The Church of the Sacred Heart archival collection contains evidentiary documentation of this rich history of Catholic education and serves as a model for preserving such parish histories.
---
Contacts
Sacred Heart Parish Center
200 Randolph Ave.
South Plainfield, NJ 07080
Bob Golon – Parish Archivist
[email protected]
Sister Kathleen Rooney, SSJ
[email protected]
Sister Nadine Boyle, RSM
[email protected]
---
Documents & Resources
---
Photos