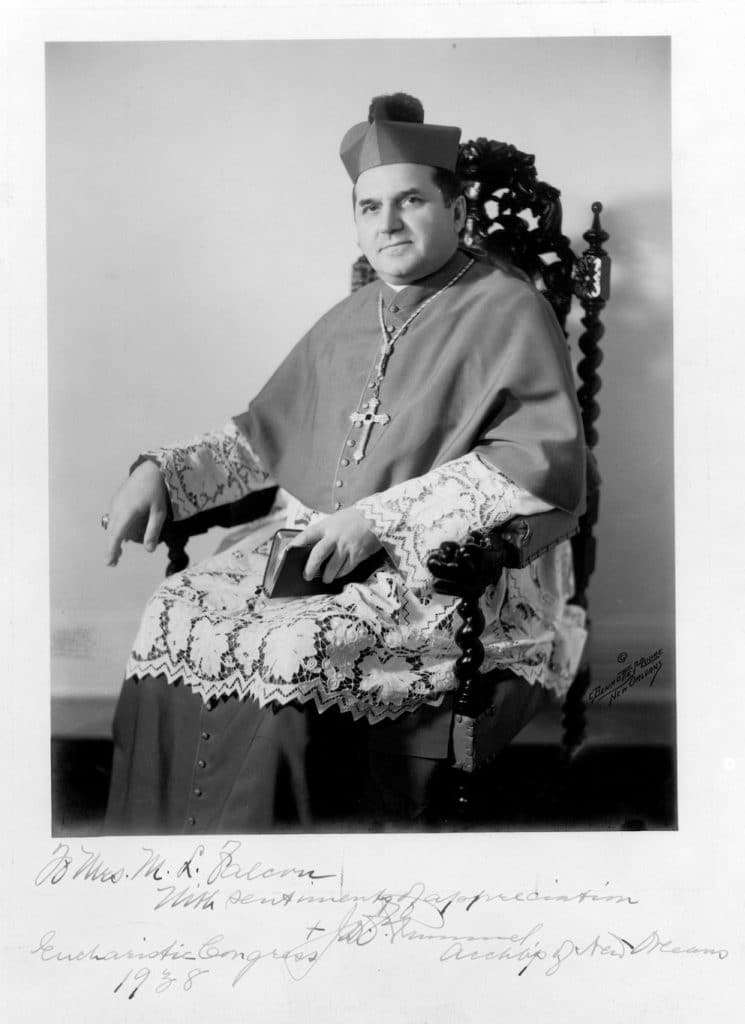 The Office of Archives and Records serves as the official repository for the records of the Archdiocese of New Orleans, supporting the larger mission of the Archdiocese. This office is responsible for developing and monitoring an efficient records management program and for identifying, collecting, describing, protecting and making available the historical records of the archdiocese.
The present Archdiocese of New Orleans includes the eight civil parishes in the Greater New Orleans area: Jefferson; Orleans; Plaquemines; St. Bernard; St. Charles; St. John, St. Tammany; and Washington. In addition to housing materials for these civil parishes, the archives also holds Louisiana-wide material from earlier periods when the archdiocesan boundaries included all or most of the state.
While the Office of Archives and Records is currently closed to researchers, many materials have been put online for users to access. Two online collections in particular are noteworthy: the Archbishop Joseph Rummel Collection and the sacramental registers Collection.
This Rummel collection includes typed and handwritten addresses and sermons created by Archbishop Joseph Rummel between 1931 and 1961. The Archbishop delivered these speeches in the New Orleans Metropolitan area and throughout the state of Louisiana at churches, conventions, commencements, funerals, stadiums, graduations, banquets, inaugurations, dedications, and at the Eighth National Eucharistic Congress. Archbishop Rummel also spoke in Omaha, Washington, D. C., Galveston, Natchez, San Francisco, Birmingham, Pittsburg, Little Rock, Detroit, Seattle, St. Paul, Jackson, Montgomery, Houston, Denver, and several other places throughout the United States. He conveyed his views on Catholicism, community, education, national and international relations, refugees, wartime morale, organized labor and patriotism, minority achievement and prospect, social justice, and numerous other subjects. This collection also includes a few newspaper articles, pamphlets, and letters.
Among the most important Louisiana resources available to scholars are the extensive, well-maintained sacramental registers, which record baptisms, confirmations, marriages, and burials of individuals and events with historical significance. Because sacramental registers detail the life history of the local community over time, they have consistently been recognized by church officials as having unique and enduring value. In addition, the digitization of these early sacramental records has allowed individuals around the world to access and research an important time in early American history. The sacramental books are accessible on our website span from around 1718 to 1815. These books include St. Louis Cathedral, Royal Military Hospital, St. Charles Borromeo in Destrehan, St. John the Baptist in Edgard, and St. Bernard in Galveztown.
---
Contact
Katherine Vest, CA
Processing Archivist/Records Analyst
Archdiocese of New Orleans | Archives and Records
7887 Walmsley Ave.
New Orleans, Louisiana
[email protected]
504-861-6241
---
Photos