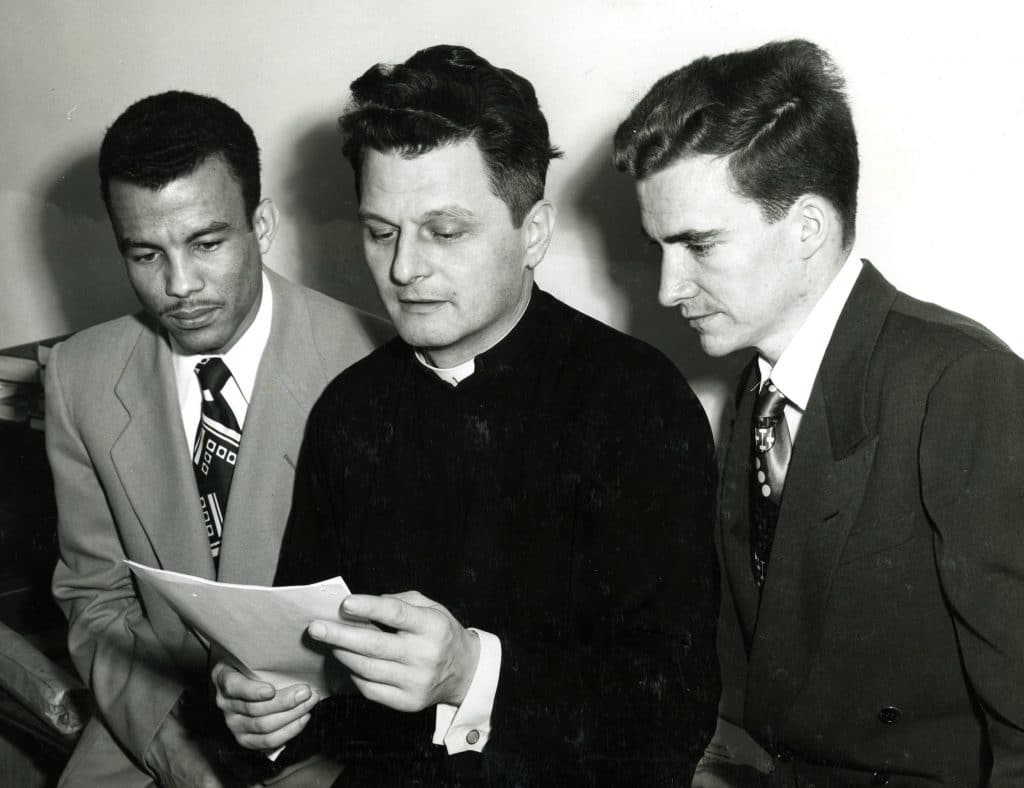 The Joseph H. Fichter, S.J. Papers document the life and work of the prominent priest, scholar, and social reformer. Born in 1908 in New Jersey, Joseph Fichter entered the New Orleans province of the Society of Jesus in 1930 and was ordained in 1942. He received a Ph.D. in Sociology from Harvard in 1947 and subsequently taught at Loyola University New Orleans and other universities in the U.S. and abroad; from 1965 to 1970 he held the Stillman Chair at Harvard Divinity School. Fichter passed away in 1994.
As a pioneer in the sociology of religion and as a champion of social justice, Fr. Fichter frequently found himself embroiled in controversy and conflict. That vigorous engagement with his times is reflected in the papers, which shed light upon the Catholic Church, the Society of Jesus, academic sociology, and the quest for social reform.
Fichter was a prolific scholar, publishing some thirty books or major research reports, dozens of journal articles, and hundreds of reviews and articles in newspapers and magazines. A pioneer in the sociology of religion, his writings often explored controversial subjects such as clerical celibacy and marriage, alcoholism among priests, and race relations. And yet scholarship was, for Fichter, a means to a larger end. He believed sociology should be an applied discipline that helped to identify, understand, and solve human problems. That conviction caused him to tackle controversial questions and to explore sensitive issues throughout his career.
Beginning in the 1940s, Fr. Fichter was closely involved in efforts to desegregate the Catholic church and wider society. In addition to his own sociological research, Fichter's papers Include the organizational records of two groups Fichter was closely involved in: The Commission on Human Rights and the Southeastern Regional Interracial Commission. The papers also document Fr. Fichters participation in key events of the Civil Rights Movement, such as the Selma to Mongomery marches. 
The Fichter Papers are held in two parts, the initial collection of papers was enhanced by a second donation that was made available in 2015. Between the two collections, there are 49 feet of material. 
The papers, which date roughly from the mid-1930s to the 1990s, capture Fichter's commitment to religion, scholarship, and social justice. They contain a wide range of material–primarily correspondence, manuscripts, transcripts of interviews, organizational minutes, questionnaires, and printed material.
---
Contact
Trish Nugent, C.A.
Special Collections & Archives Coordinator
Monroe Library at Loyola University New Orleans
New Orleans, LA 70118
504-864-7092
[email protected]
---
Photos