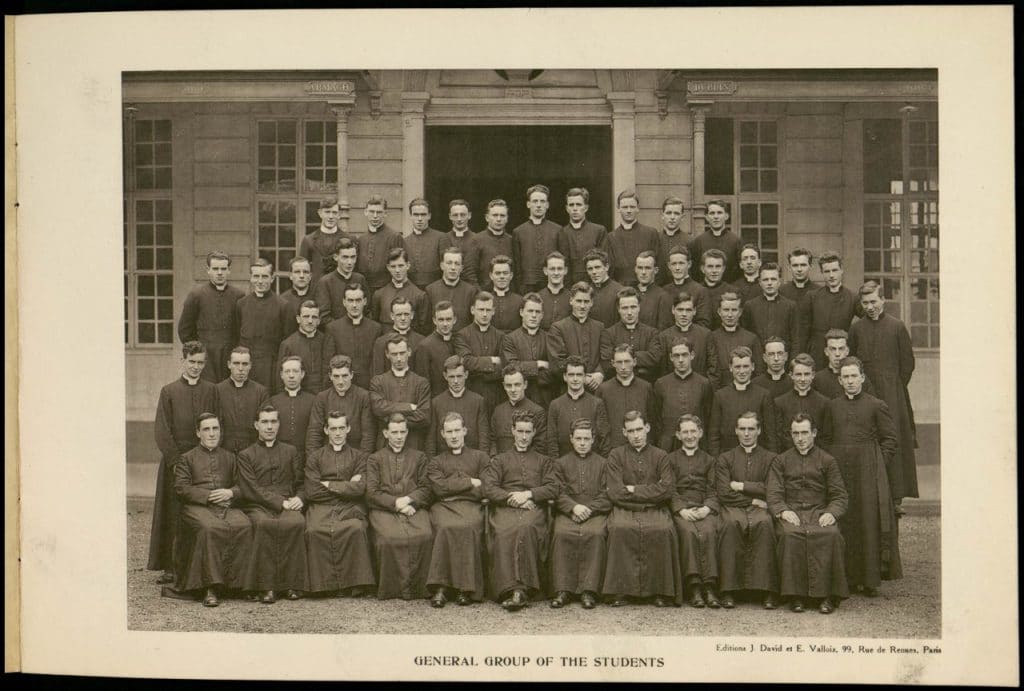 Clericus is a digital humanities research project that aims to develop a database on the Irish clerical population for the early modern and modern periods. Phase I of the project, financed by St. Patrick's College Maynooth (SPCM), focused on the students and faculty of St. Patrick's College, historically Ireland's largest seminary and pontifical university. The principal sources used were the annual class portraits and student lists. Phase II of the project involved expanding the temporal and spatial range of the database, to include datasets from the early modern period and for Irish clergy abroad. This combined database provides just over 20,000 (to date) individual biographical entries covering the period 1795 to 1945. Post 1945 records are not publicly available in line with European data protection legislation. For a more detailed look at the project see clericus.ie/article/about.
Clericus explained
The Clericus infrastructure has been developed using modern programming tools and techniques. Our main goal was to create an efficient, high performing system that would allow visitors to locate and consume information easily. At the same time, as this is an ever-evolving collection, we wanted to provide the necessary interface and tools to our content management team to easily expand the collection. We developed a simple, flexible, and extendable data model to be able to capture information from the initially identified collections but also to be able to adapt and include other collections without a need for redesigning the system. Putting everything together we were able to create an environment for our information that makes it easy to query the apparent but also the hidden relationships across entities stored in our database, perform complex data analysis tasks, view our data from different, previously non apparent perspectives and identify new research questions. Our collection consists of four main entities: events, organisations, people, and resources – but as this is a prosopographical database, our focus is on people. We are able to capture all related information as events, each having its distinct time and place. Furthermore, Clericus is able to organise information by using taxonomies that give distinct meaning to our data, e.g. event types, organisation types etc. For our visitors we developed a modern front end that provides access to the collection. This includes list views with filtering, entry level views, search and advanced search, content articles and spatial, temporal and graph visualisations.
Major uploads to date
The clergy represent perhaps the best documented group in Irish history. This body of material includes rich archival collections, both in Ireland and abroad, spanning the early modern period. These records have permitted the Clericus project to extend its focus to include the period 1575 to 1800. One excellent source of information for our database has been the student records of various Irish continental colleges. This includes data on clergy who attended Irish colleges located in Paris (c.1600-1939), Toulouse (c.1600-1792), Lisbon (1587-1850) and Salamanca (1592-1638). To date, student records from Paris and Toulouse have been added to the Clericus database (3,600 entries), while we are preparing to ingest the Lisbon and Salamanca datasets. Further helping to enrich this early data has been the records of over 1,000 clerics active on the Irish mission in 1704, many of whom received their education in the aforementioned continental colleges. Several other datasets covering seventh-century Ireland have also been added to our system, which means the Clericus database currently contains over 25,000 biographical entries spanning the period 1575 to 1945. It is projected that this number will reach about 30,000 before the end of 2021.
Future Work
The next phase of the project will also see the further development of the technical side of the database, in particular in relation to spatial, temporal and graph visualisations. The processing and ingestion of the St. Kieran's College Kilkenny (c.1800-1945) dataset, a collaboration with the Royal Irish Academy, and the datasets of Irish students in the Irish Colleges at Lisbon and Salamanca 1590-1845. Likewise, obituaries relating in the main to 19th and 20th century clerics will be added to the database over time including many individuals who went on to minister in the United States, Canada, Australia and New Zealand. Future plans, in collaboration with Notre Dame University, include the processing and ingestion of datasets of Irish priests, and male and female religious, active in the USA particularly.
Contact
Professor Thomas O'Connor
Director of Arts & Humanities Institute
Iontas Building
North Campus
Maynooth University
Maynooth
Co Kildare
W23 F2H6
Ireland
---
Photos