Voting Begins in 2017 ACHA Elections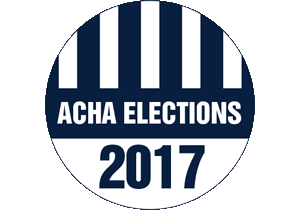 Voting for the 2017 ACHA elections is being  held online through September 19, 2017. Members were be e-mailed balloting instructions and a link to access the online voting system on the morning of September 5.
If you have not received these instructions, or have any questions about voting, please e-mail vote@achahistory.org.
The Elections Board Committee has again produced a diverse slate of candidates for your consideration. The entire slate of candidates is posted below. Each candidate has provided a statement and a CV; they are viewable by clicking on a candidate's name.
Meet the Candidates
Candidates for Vice President
Candidates for Executive Council (seat A)
Candidates for Executive Council (seat B)
Candidates for Graduate Student Representative
Candidates for Election Board Chair