Program: Spring 2010 Meeting at Princeton University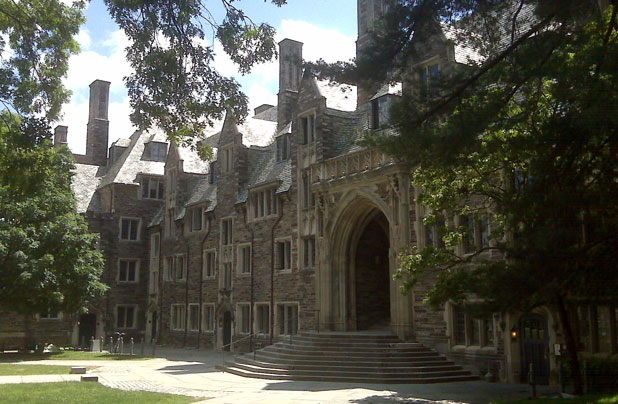 Program
Spring Meeting of the American Catholic Historical Association

March 13, 2010
 
Friend Center, Princeton University
Please find the complete contents of the program of the ACHA's Spring 2010 meeting reproduced below.
A downloadable PDF version of this same program is available here.
Registration: 8:00-9:00
---
Session I: 9:00-10:30
---
 
National Race Consciousness in Baroque Catholic America
Friend Center 004
Convener/Comment: Matthew Backes, Princeton University
Anthony M. Stevens-Arroyo, Professor Emeritus, Brooklyn College "The American Catholic Historian, circa 1647: Perspectives on History from Diego de Torres y Vargas"
Ana Maria Diaz-Stevens, Professor Emerita, Union Theological Seminary "Sor Juana Ines of Baroque Mexico as a Wise Latina for All Ages"
Adan Stevens-Diaz, MA; graduate student, Fordham University "The Racialization of Images of Mary in Baroque Latin America"
Comment: The Audience
 
American Catholic Life in a Period of Reform
Friend Center 006
 Convener/Comment: Joseph M. White, Catholic University of America
Helen Ciernick, Mount Marty College, Yankton, S.D.
"Taming the Zoo"
 
Maria Morrow, University of Dayton
"Christian Maturity and Sin in the 60s"
 
John Coleman, Western Connecticut State University
"The Reform of the Divine Office"
 
Ritual, Relics and Narrative: The Church and Crusade Devotion in the Thirteenth Century
Convener: William C. Jordan, Princeton University
Cecilia Gaposhkin, Dartmouth College
"The Liturgical Rite for Taking the Cross: Thematic and Ritual Developments in the Twelfth and Thirteenth Centuries"
 
Anne E. Lester, University of Colorado at Boulder
"Helen's Treasure: Relics and Devotion in France in the Aftermath of the Fourth Crusade"
 
Christopher H. MacEvitt, Dartmouth College
"Where Crusaders Fear to Tread: Franciscans and Narratives of Triumph"
---
Session II: 10:45-12:15
 
Church Historians at the Service of the Church: Academics and Media in Coversation
Friend Center 004

Convener: Terry Golway, Kean University
 
Christopher Belllitto, Kean University
"Yesterday's Councils, Today's Church: Telling the Story—and Being Heard"
 
Thomas Izbicki, Rutgers University
"Papal Elections in the Age of Television"
David Gibson, Author, The Rule of Benedict:: Pope Benedict XVI and His Battle with the Modern World
"What the Media Needs from Church Historians"
Comment: The Audience
 
Catholics, the South and Race
Friend Center 006

Convener/Comment: Jon Wakelyn, Emeritus Professor, Kent State University
 
Douglas J. Slawson, National University
"'The Negro Problem': Two Catholic Journalists Debates over Equality of Blacks"
 
Seth Smith, The Catholic University of America
"The Perils of Throwing Open the Windows of a Church with No Foundation: A Radical Interpretation of Vatican II in an Isolated Southern Parish"
 
Aspects of French Catholicism
Friend Center 008

Convener/Comment: Phillip Haberkern, Princeton University
Daniel J. Watkins, The Ohio State University
"A 'New' Catholicism: The Catholic Enlightenment of Fr. Isaac-Joseph Berruyer (1681-1758)"
 
Jeffrey L. Morrow, Seton Hall University
"The French Connection: Isaac La Peyere and the Rise of Modern Biblical Criticism in 17th Century France"
 
Catherine Looker, SSJ, Chestnut Hill College
"An Enduring Dialogue Through the Ages: The Spiritual Guidance of Marguerite Porete"
Comment: The Audience
 
Gender Issues in a Cross Cultural Spectrum
Friend Center 110

Convener/Comment: Rebecca Rix, Princeton University
 Monica L. Mercado, University of Chicago
"The 'Awful' Legacy of Maria Monk: Rediscovering Nineteenth Century American Catholic Publishing"
 
Pamela Kirk Rappaport, St. John's University, New York
"Converso Subtext in Sor Juana Ines de la Cruz's (1648-1695) Response to a Bishop"
 
Thomas Heffernan, University of Tennessee
"Gender and the Sources of Authority in Augustine's Sermons on the Passion of Perpetua and Felicity"
 
---
Lunch: Shultz Dining Room, Robertson Hall
Graduate Student Networking Meeting
Charles Strauss, University of Notre Dame
---
Session III: 1:45-3:15
 
Faith and Politics in 20th Century Italy
Friend Center 004
Convener/Comment: Sean Brennan, University of Scranton
Steven White, Mount St. Mary's University
"Like Father, Like Sons? De Gasperi's Search for Christian Democratic Heirs"
 
Roy P. Domenico, The University of Scranton
"Secularism, Secularization and Catholic Politics in Italy, 1948-1974"
 
Ariella Lang, Rutgers University
"Race and Religion in Mussolini's Italy"
 
American Catholics and Ecumenism
Friend Center 006
Convener/Comment: Jessica Delgado, Princeton University
 Catherine Osborne, Fordham University
"The Chapel on the Moon: Maurice Lavanoux, Imaginary Architecture, and the Ecumenical Future"
 
Thomas F. Rzeznik, Seton Hall University
"Not Non-Sectarian Enough: Catholics and the Religious Revival at the University of Pennsylvania"
Comment: Justin Poche, College of the Holy Cross
Three Bishops
Friend Center 008

Convener/Comment: Rt. Rev. Msgr. Robert Trisco, The Catholic University of America
Philip A. Grant, Jr., Pace University
"The Elevation of Archbishop Joseph L. Bernardin to the College of Cardinals"
 
Samuel Thomas, Michigan State University
"Immanence and Transcendence: John Cardinal Dearden's Church of Tomorrow"
 
James P. Niessen, Rutgers University
"Bishop Motiejus Valancius, 1801-1875: A Patriotic Lithuanian Bishop in Comparative Perspective"
---
Session IV: 3:30-5:00
 
Early National Era Catholicism
Friend Center 004

Convener: Gerald P. Fogarty, S.J., University of Virginia
Jason K. Duncan, Aquinas College, Grand Rapids
"Catholics and Their Unknown American Revolution"
 
Maura Jane Farelly, Brandeis University
"American Slavery, American Freedom, American Catholicism"
 
Michael S. Carter, University of Dayton
"'Keeping Faith with Heretics': Indulgences and the Anti-Catholic Imagination in Early American Print Culture"
 
The Irish Legacy: At Home and Abroad
Friend Center 006
Convener: Steven M. Avella, Marquette University
J. Philip Gleason, Emeritus, University of Notre Dame
"Popery and Papistical Paddy: George Templeton Strong on Catholicism and New York's Irish Catholics"
 
Christopher P. Gillett, Independent Scholar
" 'These Wicked Instruments': The Role of the Catholic Clergy in the Irish Rebellion of 1641
Comment: The Audience
 
Medievals and Medievalism
Friend Center 008
Mary Zito, The Catholic University of America
"Inventing Aquinas: Late Medieval Sanctity in the Writings of Roman Humanists"
Larissa Juliet Taylor, Colby College
"Joan of Arc's Trial and the Dominicans of Saint-Jacques"
Comment: The Audience