Catholic Historical Review: Spring 2015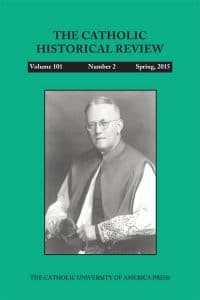 We invite you to preview highlights from the Spring 2015 issue of the Catholic Historical Review. On this page you can browse summaries of articles appearing in the Catholic Historical Review.
---
Full issue
Members: Click here to read the full issue.
---
Issue highlights:
---
Centennial Retrospective
"In the interest of true history": The Catholic Historical Review and the American Catholic Historical Association, 1915–69
Joseph M. White
The author discusses the history of the American Catholic Historical Association from its beginnings to 1969, including key leaders, activities, and the relationship with The Catholic Historical Review.
Article
Pope Gregory XVI's Optimism Toward Russia in His Censure of Polish Clerics in 1831
Christopher Korten
Pope Gregory XVI (1831–46) was an experienced church diplomat in Russian affairs when he agreed to assist the Russian government in quelling the Polish uprising of 1830–31, a revolt that involved not a few prominent Polish clergy. Impensa Caritas (February 1831) admonished clergy to remain devoted to their spiritual duties, to refrain from revolutionary activity, and to obey legitimate authority. The pope's decision to cooperate resulted from a series of positive collaborations that began in 1825, most notably with the Armenian Church. Meanwhile, Russia's request for assistance was made in good faith by Prince Grigory Gagarin, the Russian envoy, to quell the Polish revolt.
Book Review
Clerical Celibacy in the West: c. 1100–1700 by Helen Parish (review)
Elizabeth Abbott
The topic of Helen Parish's authoritative and immensely readable Clerical Celibacy is rooted in millennia of Christian doctrine, discipline, and practice, and remains as timely and contentious as ever. Pope Francis called it "a rule of life that I appreciate very much, and … a gift for the church" but added that "since it is not a dogma, the door is always open."