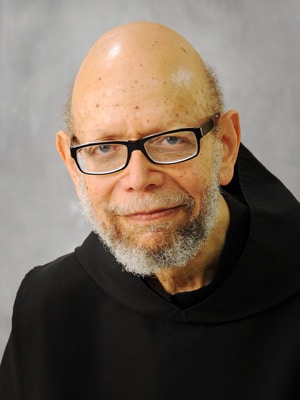 The Association lost a good friend and member on Monday, May 18th, as Fr. Cyprian Davis, O.S.B., passed away at the age of 85. A member of the Benedictine Order for 65 years, Fr. Davis was a historian of Church history for more than 50 years, beginning his teaching career at St. Meinrad's archabbey and seminary in 1963. He would have celebrated 60 years a priest in 2016.

Cyprian Davis was the author of six books and numerous articles. He also lectured and presented on Church history extensively both here at home and abroad. Best known for his work on Black Catholics, Davis's "The History of Black Catholics in the United States" (Orbis 1990) received the ACHA's John Gilmary Shea prize in 1991. 

For many decades Fr. Cyprian was a member of the ACHA. He was elected to the office of vice president in 2002. In 2013, at the Annual Meeting of the Association in New Orleans, he was honored with the ACHA's "Distinguished Teaching Award". In presenting this award to him, ACHA President Maggie McGuinness cited from those who had nominated him for the award. The phrase that best summed up his contribution as a teacher: "His work has been sheer grace for our Catholic community."

Fr. Cyprian Davis is remembered not only for his scholarly and priestly service to the Church and its people, but also for being a kind soul, a generous person, and a good friend.